The 2015 Kamloops Film Festival has just come and gone; this piece was featured in the festival insert that accompanied the Kamloops This Week…without further ado, the extended and Pin-Up-ized version of the article…
Award season is in full swing; and the social media news-feeds are filled with tidbits from these congratulatory evenings that pulsate with fevered anticipation, glittery gowns, and talented performers who are spray tanned within an inch of their life. 'What are you wearing?" "Who are you here with"? "Are you excited?" "Nervous?" And my question if I were granted court: "When was the last time you had a sandwich?" Of course these people are excited. Number one: if you're walking that red carpet, dripping in diamonds and adjacent to a bulging three hundred pound bodyguard named Rocco—you've made it. You've been a part of a significant project, and it's now being clustered into an exclusive group of significance and a lucky few receive a holy trinket as a result.

But seriously, win or lose, that's a pretty solid way to spend an evening. Coiffed to perfection, you are privileged to wear jewels and couture, rubbing elbows with wealth, talent and celebrity; swag bags would have gold dipped M&M's and the champagne fueled after-party people watching would be Olympic level greatness. As it is happening, and in the days that follow, the event and its participants are neatly categorized by the media under: best/worst/memorable/uncomfortable; the hits, the misses. I can't help but think about the people behind the flops. Who are the people behind the choices? Like…who approved Bjork's swan dress?
The late 80's scandal magnet Rob Lowe singing Proud Mary with Snow White?
Who was the guy who pitched Anne Hathaway and James Franco as Oscar hosts? Seriously?
Fact is things hit as often as they miss—sometimes you don't know why, sometimes you wonder why no one foresaw the future flop–but sometimes the miss evolves into something spectacular in retrospect, and falls under the best category of all–"so bad it's good" .Rob Lowe + Snow White x "Proud Mary" = The Greatest Thing to Ever Happen to Me. If only something tossed Lowe a saxophone so he could play a la Billy Hicks from "St Elmo's Fire", it would have lifted the bar a fair bit.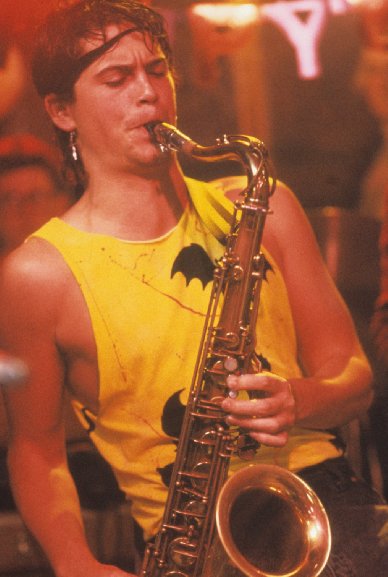 This performance was so bad that the Academy received strongly worded letters from the likes of Paul Newman and Julie Andrews. Ouch. I just hope I never screw up so badly that I get a strongly worded letter from Mary Poppins.  Perhaps I can comfort my collection of small failures with the sentiment.
It also says something about formulas for success. I can only imagine the late 1980's executives in their boardrooms, jacked on cocaine and ego clapping each other on the back for these 'excellent' ideas. "People love Rob Lowe. People adore Snow White. People can't resist bastardizing the lyrics to "Proud Mary" with clever cracks about dwarves. What if we threw it all in a great big blender…how smooth would that go down?" Hey—I like fish and I like ice cream, but it doesn't mean I want to combine the two. In my experience as an event coordinator, I constantly obsess at the near mathematical combination of time of day/day of week/point in year in combination with financial climate/theme/location…and all the details in between. Most importantly, "Who am I catering to?" "What gets people off the couch and out the door? "Why should they get a babysitter?" "Why should they make the time?" Socialization is hard work—at least the idea of it is. I feel like participating in dinner parties or social occasions is like exercise. You don't feel like doing it, and then you do it and maybe it starts off painfully, and then…you're just running—smiling, cheeks flushed, wind in your hair, and heart pounding mightily in your chest. You're glad you tried it. You feel better for having done it. Still, you need to get moving to get that feeling. And that, as everyone knows is the hard part.
So…who are you? What do you want? What do you want in a party or event? What kind of music? What would you eat? Drink? What would make you want to stay? Want to go? The mind reels, right? Do you even know what you want? You want that freshly exercised feeling without the pain. I know I do. Whenever I have a hand in the planning of an event, it always comes with a touch of heartburn and crippling self-doubt. If I planned an event that suited me, there'd be nothing but cheeseboards, bread, mellow lighting, and comfortable seating,  listening to the CBC at a moderate level while waiters who looked like George Clooney handed out free drinks and lingered while making eye contact. But hey, that's just me.
Also, planning takes time, and when you don't have time—you are up a creek without a paddle. I don't know about you, but I personally have the ability to overload my schedule in the same way a prison inmate or a university student would load up their plate at a buffet on a cruise ship. Always, always, always room for dessert, and maybe more mashed potatoes. Heaping spoonful's of absolutely everything—YOLO y'all, YOLO. Sleep is for babies and great things can be achieved if you make that the thing to take off the plate. It kind of makes you like a circus performer who rides a unicycle and balances plates on sticks…except you are drunk, experiencing vertigo and only have one leg. Oh. And you are on fire. In the thick of film festival preparedness, beyond my demanding career, I was also participating in a thirty-day yoga challenge. Then, just for fun, my husband and I got a new puppy. We named her 'Bluebear", which is Latin for "Nothing will ever be achieved in a timely manner again".
With my e-mail inbox fuller than a Kardashian's pout, Bluebear's need for attention at an '11' on the puppy scale, I was at a breaking point: downward facing-dog-gone-girl. This furry little toddler was gnawing away at my spare time like the carpet in the living room; prevention had no point, she was destroying the fabric like it was her mission from God. I had one afternoon to myself, and was bent on catching up. I ran an errand with the dog on the passenger seat. The radio playing low and the pup resting her head peacefully, and me…just driving for 45-minutes basking in the quiet. Eyes narrowed on the road—like a fugitive from the law—just a couple of procrastinating bandits–she the Thelma to my Louise. "Let's just keen going Blue–let's just drive until we run out of road".
My phone rings, my husband's voice over speakerphone sounding concerned. "Where are you—I'm waiting for you to come home, I was going to take the dog". "I'm just driving!" I say, laughing, my own voice teetering on the edge of madness—sounding as incredulously giddy and nonsensical as if I had just said: "I just walked on the moon in ice skates, good thing I had my sunglasses! I just had Justin Bieber's baby—I didn't even know I was pregnant, I've never even heard his music! Charlie Sheen is doing Shakespeare in the park—and he makes a wonderful Juliet!!" Okay then…time to stop driving. This is like 2008 Britney Spears behind the wheel with a baby on her lap kind of crazy.
Once home, both husband and the puppy out of sight, the opportunity presented itself to work alone in the sanctity of my office. I faced the email onslaught with the intensity of Rocky dashing up the steps to the Philadelphia Museum of Art once he's finally in fighting form. One by one, the emails are answered and filed or deleted, the pressure lessens, a new to-do list is born.
Why do this? Every volunteer has full plates of their own: families, jobs, responsibilities and yet they save room on the dish for the film festival. We do it because we are film-lovers who love film-goers. We like to put all these pieces together, and create a special experience for our community. No greater joy than to sit back and watch others enjoy; like the matriarch in a multi-generational family watching everyone devouring the meal she spent the day making: feasting, tasting, laughing—satiated by your own loving efforts. It makes balancing it along with the yoga challenges, puppy problems, and time constraints worth the while. To participate in a committee like this is to invest your time in creating a special, cathartic, emotional, entertaining and fabulous chain of events. It's a cinematic holiday in your daily life where film-goers gather to love movies together. It's worth the lost sleep and increased intake of Tums.
Why the film festival? To me, it's one of my favourite times of the year. This Netflix age—much precious time is spent looking for "something good". And then—you finally make a selection, only to lose interest in the first 15 minutes. And so—the journey continues, trudging the path of indecision in the land of endless choices. The issue is of timing and context. It's the dilemma of film's purpose—entertaining vs. edifying. Let's be honest, life can take some pretty dark turns: disease, divorce, war, poverty, the way toddlers have a better i-Phone than you and are so technologically adept that they could very well be the Sony Hackers. There are many serious, important, controversial films that hold a mirror up to history, to humanity—and I have never seen them. Simply because there never seems to be a good time to experience the breakdown of a marriage, the death of a loved one, the atrocities we afflict on others on large and small scales in the comfort of your own home. It never goes well with the end of a long work week, a ratty oversized hoodie and a plate of Chinese food on your lap. If nobody minds, I'd like to keep it so light that the movie could practically float away.
Though in my defense, I am a true sap, an empathetic cinematic sponge that is inflicted with whatever ailment haunts the characters within. My husband has said on more than one occasion: "You know this movie isn't actually happening to you…right?" Of course I know that…but it could, and being reminded of life's fragility whilst my fingers are tunneling through a bag of buttery popcorn is as bad a combo as Snow White and Rob Lowe. It makes me think of last year's beautiful "The Broken Circle Breakdown", which is quite possibly the most devastating film I've ever seen. That's a kind of film that you watch once, die inside a little and then never again. It does such an exceptional job at bringing you into the heartache, like a 3-D effect, that it hurts way too much to repeat.
With that in mind, it makes you want to polish off too many margaritas and watch a Cameron Diaz movie on a Friday night. Sure, you watch it ironically, and it's the cinematic equivalent of taking a cabana boy as your lover on holiday. You wouldn't bring it home with you, but it's good for the night. But one cannot live off of twenty year olds named Pedro and "Bad Teacher" alone. You need to see the poetry of the human experience in its full breadth: the best/worst/memorable/uncomfortable; the hits, the misses. There are so many excellent emotional cinematic efforts that would pass you by if you avoided the film due to its emotional weight.That's the beauty of the film festival. It's a safe place. It is an adventure. It's a little bit dignified; it's a social community event. You're out in public, so odds are your bra is still intact and not carelessly flung onto the kitchen table in the decisive—"Not leaving the house ever again" kind of way. Whether it's a comedy, a tragedy or somewhere in between—it's something outside of the norm, outside of your comfort zone. You're surrounded by empathetic film goers, who share the same doubts, fears, concerns, and who also quiver in the chill of life's dark shadows; who want to laugh whenever possible, who want to talk about the minor details over a cup of tea afterwards. In the darkness, the group becomes one collective heartbeat, muted observers glimpsing into the lives of others, at the light that shines through the cracks. And you know that you are not alone.
Images Courtesy of Google